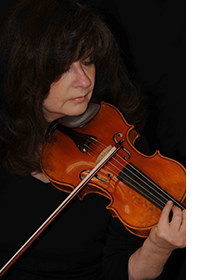 Internationally recognized for her brilliant performances on the violin, Lenore Vardi has emerged as an exciting visual artist with her abstract renditions of musical instruments. Appearing in recital, as soloist with orchestra, and in chamber music performance world-wide, Lenore was praised by the New York Post as a violinist of
amazing elegance and musicianship…a natural performer.
Equally gifted as a visual artist, Ms. Vardi has, for many years, been involved in her parallel art career which is a natural extension of her artistic sensibility.
Since childhood, I have had a fascination with architectural and geometric shape. I have a deep love of Indonesian and Japanese design and I am very influenced by the Far East in my painting. I admire Zen philosophy and art and have a strong desire to incorporate clean line, balance, interesting design and the use of harmonious color in my painting. Color, flow, line, balance, and harmony are important in both music and visual art which I feel are intimately related.
Because of my background in music, I view myself as somewhat of an 'insider' in the world of music. This privilege inspires me to create abstracts from a rather intimate performer's point of view. I thoroughly enjoy depicting not only my chosen instrument, but the many other strikingly beautiful instruments that I have partnered with in my many years in rehearsal and on stage. I love portraying their wonderful shapes and unique characteristics in interesting combinations while also attempting to capture the softness, vibrancy, and beauty of the music that they are capable of producing.
Ms. Vardi has been represented by over a dozen galleries throughout the US, and currently resides in Cedar Falls, IA with her musically appreciative cocker spaniel, Livvy.